For a third straight year, the Washington Redskins face a decision on quarterback Kirk Cousins, one they might start answering as early as Tuesday. But unlike the first two years, it's unlikely this scenario will play out the same way.
If the Redskins want to apply the franchise tag to Cousins for a third year -- as they reportedly have considered -- the window opens Tuesday and runs through March 6. The new league year begins at 4 p.m. ET March 14.
Why would they tag him?
>2018 NFL Free Agency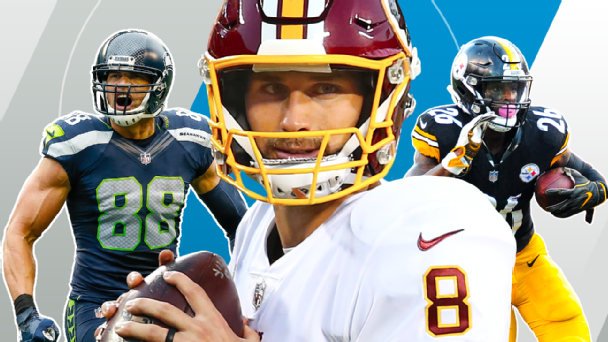 Kirk Cousins. Jimmy Graham. Le'Veon Bell. This class could get wild. Here's everything to know heading into free agency, which begins March 14.
• Ranking top 50 potential free agents »
• Looming FA decisions for all 32 teams »
•

Making biggest decisions for all 32 »
• Destination Cousins: Landing spots »
To trade him. The Redskins have no intention of bringing back Cousins after trading for Alex Smith in January, a deal that becomes official March 14. The Redskins gave up a third-round pick plus talented young corner Kendall Fuller to get Smith (who then agreed to a four-year extension). They view Cousins as a potential asset who, in theory, could land them another draft pick or two. If Cousins leaves via free agency, his deal could be worth around $30 million per year. Because of the size of the contract, even if the Redskins signed other high-priced free agents, they'd be in line for a third-round compensatory pick in 2019. Trading Cousins now could yield a pick in 2018.
Which tag would it be?
The Redskins would place the franchise tag on Cousins, and because it would be the third time, it would have to be the exclusive one. That would mean no teams could negotiate with the 29-year-old, which, of course, would make any sort of trade difficult. The only other alternative is to use a transition tag to lessen Cousins' price tag at $28.8 million. But that wouldn't make much sense. If the Redskins did that, Cousins wouldn't sign the tender and then could simply secure an offer sheet from another team, and the Redskins would lose him for no compensation (unless they matched the offer, which they wouldn't).
Will Cousins file a grievance if tagged?
Yes. Multiple sources close to the quarterback said last month he would, and another confirmed Monday that nothing has changed. Their rationale: The tag was meant as a way to keep players around, ostensibly to work out a long-term deal. The Redskins, of course, would have no intention of signing Cousins or keeping him around on the tag. New England tagged Matt Cassel in 2009, though the Patriots were able to claim it was as insurance in case Tom Brady, coming off a knee injury, wasn't ready to start the season. However, the move was clearly made so they could trade him because within a month the Patriots sent Cassel and starting linebacker Mike Vrabel to Kansas City for a second-round pick. Cassel did not file a grievance.
But Cousins is intent on hitting free agency and will be more aggressive than Cassel in trying to reach that goal.
Would he sign the tender?
That remains to be seen, but Cousins could completely disrupt Washington's plans with either decision; one source close to Cousins doubted he would sign, but nothing was definite.
If the goal is to get to free agency, Cousins shouldn't sign. Here's why: If he doesn't sign the tender, the Redskins cannot trade him. If they can't trade him, the Redskins will absorb a $34.5 million cap hit once the new league year starts. That would severely affect their ability to sign other free agents.
Therefore, if Cousins doesn't sign the tender and if Washington wants to be a player early in free agency, it will have to rescind the tag by the start of the new league year. The result: unrestricted free agency for Cousins. Smith's $17 million cap hit will go on the Redskins' books when the trade becomes official. Keep in mind that Kansas City will want Smith off its books so it can be active in free agency immediately. The Redskins can't hold off on making that trade official while trying to peddle Cousins.
Source : http://www.espn.com/blog/nfceast/post/_/id/80490/clock-starts-ticking-on-possible-redskins-kirk-cousins-tag-showdown