New York Fashion
Week ended with a bang on Wednesday as Marc Jacobs showcased a dazzling 80s-inspired collection featuring vibrant hues, bulky adorned shoulders and jumpsuits.
But a small group of animal rights activists loudly protested outside the event, criticising Jacobs' use of fur.
Chants included: "Animals are not ours to wear," while placards read: "Marc Jacobs kills because you buy."
Back inside, the bare stage set was lit up with flamboyant shoes, bright taffeta ruffles and boxy suits - Grace Jones, eat your heart out.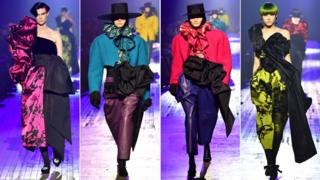 Michael Kors also showed on the final day, closing with My Favourite Things from The Sound of Music.
Source : http://www.bbc.com/news/entertainment-arts-43044492