A plus-sized activist who overcame bullying by learning self-love now wants to inspire other overweight women to embrace their figures - and ignore the haters.
Julianna Mazzei, or Jewelz for short, has amassed close to 100,000 followers on Instagram with her often provocative photos displaying her plus-size body proudly, alongside positive mantras aimed at other women who may be struggling with the same low confidence.
Because while Jewelz is confident in her body now thanks to the support and love she found on social media - she wasn't always.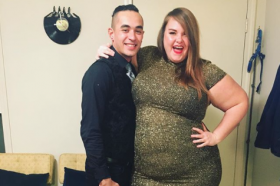 >
Plus-size activist has the perfect response to Instagram trolls
Jewelz revealed: "Until I was 23 years old, I hated myself. Through finding inspiration online, and coming to terms with who I am and what I need to do, I knew I needed to start accepting who I was."
Severely bullied her entire life because of her weight, Jewelz says she has heard it all - including an ex-boyfriend who ended their relationship because she was "unhealthy" and a bully who referred to her as a "tub of lard."
But despite the horrendous comments she's received throughout her life, Jewelz has learned to embrace her UK 26 size - and others on social media praise her confidence.
Inspiring others on social media with her modelling and hashtags that promote body positivity and self-love, Jewelz has become a role model for plus size women who may be going through similar struggles.
According to Jewelz, she began modelling so she could inspire people through body positivity.
However, the main reason Jewelz turned to modelling is "to remind women that they can feel beautiful too, that you don't always need to see one standard size in model modelling for lingerie or for cars."
But it is her hashtags #BigandBlunt and #IGot99ProblemsButMyFatAintOne that have resonated with her thousands of followers.
And while most of the comments she receives are overwhelmingly positive, Jewelz does still receive negative comments on social media - often condemning what they believe to be an unhealthy body image she is promoting.
In response to comments about her health, Jewelz insists she is not unhealthy - but also does not use a scale.
She said: "I've never had a doctor tell me that I have to change my diet or that I need to lose weight. I've had a doctor tell me that I was fat for sure but they were never immediately like, 'Well you need to lose weight because your health is at risk.'"
But even if she were unhealthy, Jewelz says she would "still be entitled to self-love and people need to remember that."
Source : http://www.independent.co.uk/life-style/julianna-mazzei-jewelz-plus-size-instagram-model-self-love-body-positive-lard-insults-a8155881.html