"When I walk into the mall, there are maybe two stores I can shop at," says Gabi Gregg, the fashion blogger and designer who has covered the plus-size clothing industry since 2008. She started her blog because she was frustrated by seeing few women of her size-18-20 body represented in the media. Gregg has helped bring the "fatkini" trend into the mainstream and built her name as one of the first bloggers to highlight the need for fashion-forward clothes for women of all sizes. Recently, Gregg co-launched plus-size clothing line Premme with Nicolette Mason and collaborated on designs with Playful Promises and Swimsuits for All. Here, Gregg, 31, talks about the importance of representation in the fashion world and why she sees style and politics as one and the same.
Plus-size clothes can be less fashion-forward than straight-size ones. Was this the case when you were younger and just getting into fashion?
Oh yeah, especially back then. Back then we had so few options. Plus-size categories were for older and/or matronly women who had a bunch of kids, not younger women who wanted trends. In high school, I knew I wanted to work in fashion [media] and I read magazines, but because I never saw anyone who looked like me, I didn't think it was realistic.
Advertisement - Continue Reading Below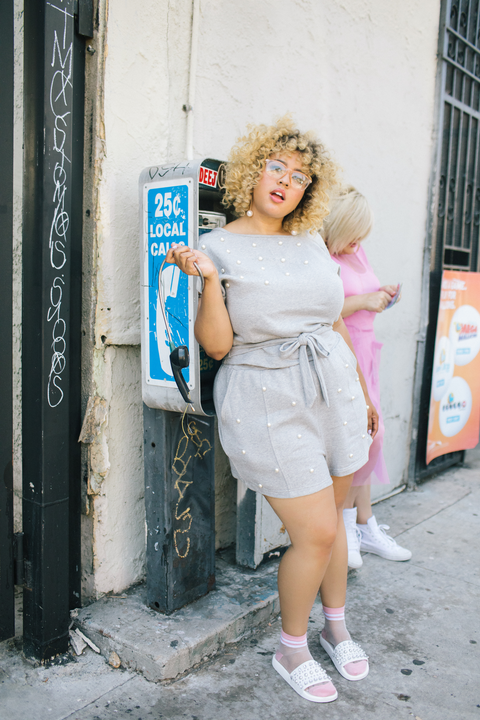 >
Gabi Gregg has built her name being one of the first bloggers calling for fashion-forward clothing for women of all sizes and body types.
PREMME
When you started out, you were really active on LiveJournal forums about fashion. How did that change your understanding of style?
LiveJournal was the first place where I found out I wasn't alone. At the time, I loved fashion but I still wanted to lose weight. Then, when I couldn't find a job after graduation, I did a separate website. I think the plus-size communities were all over the place in terms of style, [and] they weren't all fashion-focused. They were also about life experiences — political in a good way, ways in which people were discriminated against, dealing with interpersonal issues. I wanted to make a space that was fashion-first and plus-size friendly.
You mentioned women have more plus-size options now, especially online, but what do you feel is still lacking?
We're still missing that elevated cool-girl moment. That's the space [Premme is] trying to fill — the girl who wants to be fashion-forward with statement pieces that feel special and not matronly.
We need more diversity across the board in all positions, especially behind the scenes: writers, creators of all sorts, especially in the advertising industry. Of course, models. We are seeing more progress with those such as Ashley Graham, but there's a lot more we can do because representation is so important.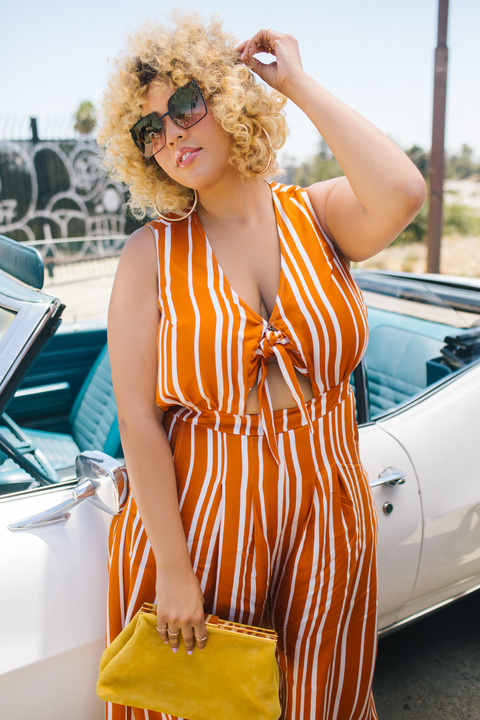 >
Gregg says there were very few style-centric plus-size communities on the Internet when she began blogging in 2008.
PREMME
What kinds of offensive comments do you deal with in real life?
If you are marginalized in any way, you know what's it like to experience a micro-aggression every day. Plus-size women get dirty looks while grocery shopping or eating something that is not a salad. [We don't have] the freedom to eat what we want. Or to go to the gym without getting a pat on the back like, "You go girl, you can do it!"
You're also very political online.
Fashion is political, especially when you're in a marginalized community. We have been left out of fashion since forever. But now we're getting a foothold. I think it is political for a fat woman to wear a bikini or a crop top or to basically exist in a world that's telling them that they should not exist.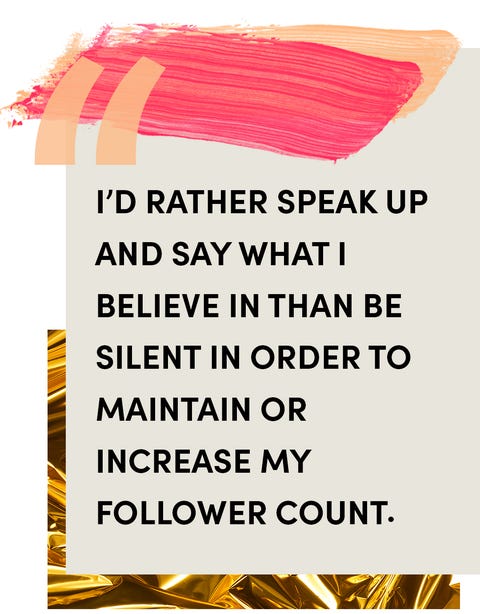 ABBY SILVERMAN | Getty
Advertisement - Continue Reading Below
How do you handle the trolls?
When I speak out against Trump or racism, I think it's an opportunity to educate people. I'd rather speak up and say what I believe in than be silent in order to maintain or increase my follower count. I do have people who tell me to stick to fashion and they didn't come to my Instagram for my politics, but I won't let that deter me.
Fuck nazis, white supremacists, "white nationalists," and their sympathizers, including the pathetic excuse for a human that is Donald Trump. There are not "many sides" to this. It has nothing to do with political party, Hillary Clinton, Barack Obama, BLM, or any statue. It's about violent racists who should not be given any platform to spew their garbage. No, we should not hear nazis out. (I cannot believe I have to type that sentence). They are scum and our president is too for giving them any sort of legitimacy and emboldening them.

A post shared by " target="_blank"> Gabi Gregg (@gabifresh) on
How do you respond to other online comments?
Some will message and ask if I've lost weight, and I'll be so confused. In my career, I avoid dieting even if I've lost weight. I don't speak about it publicly because I don't encourage diet talk. Followers will say that I look thin today, and I'm like, "Wait, what?"
Does it feel strange to be considered an "influencer"?
The industry came up with "influencer." It was thrust on me. It felt weird at first because it sounded technical. But over the years, I've come to accept it because it is accurate. When we wear something, it might sell out. When we put our name on something, it does have more power.
This interview has been edited and condensed.
Correction: A previous version of this article misstated Gregg's clothing size.
This Is the Woman Behind Those Mesmerizing Lip Photos You See on Instagram
I Was a Struggling Immigrant Artist. Then Beyoncé Called.
How a Struggling Single Mom Turned Beauty Blogging into a Six-Figure Career
This 64-Year-Old Professor Has More Instagram Followers Than Most Millennials
I Was Bullied for Being "Too Black." Now I'm a Model.
How Instagram Helped Heal Me From My Eating Disorder
There's Someone Very Unexpected Behind One of Instagram's Sexiest Fitness Stars
How This Woman Went From Trailer Park to Instagram Queen
This Is What it Really Takes to Make it as an Influencer
This Is What it's Really Like to Be an Instagram Mom
This Badass Couple Makes a Living Swimming with Sharks and Taking Epic Underwater Photos
We Quit Our Jobs to Eat Around the World and Now Make Six Figures
How Obama's White House Photographer Became an Unlikely Instagram Sensation
How Violetta Komyshan Handles Insta Trolls and Life Dating Ansel Elgort
Source : http://www.cosmopolitan.com/style-beauty/a13801599/gabi-gregg-instagram-model-gabifresh/