SAN ANTONIO – It's the summer of 2015, and UAB is planning for the future.
First-year athletic Director Mark Ingram, only a few weeks onto the job, is talking with the NCAA about how the Blazers can come back strong after their self-imposed football disbandment almost eight months prior. There were certain waivers UAB desired, including the ability to sign a larger-than-normal 2015 class to restore the team's depleted numbers. But one stood out as just a little crazy, even to the man who asked for it – immediate bowl eligibility.
Normally, a new FBS program must endure a two-year reclassification process before it can become bowl-eligible. UAB, which would return in 2017 after two years away, wanted the option immediately.
Making a bowl was a long shot. But it was also an important carrot stick of hope for the program.
"We had 25 kids on the team and most of them were walk-ons, and we said, 'We have no idea what we're going to have. But would you please not prevent us from going?'" Ingram told 247Sports last week. "Give us the opportunity to go to the bowl if by some streak of luck we got to six wins.
"Wouldn't it be horrible if we couldn't go?"
Two-and-a-half years later, UAB head coach
Bill Clark walked to the podium following the Blazers' 52-21 win over Rice with a green plastic bowl dotted with stickers that read "bowl eligible." A fan handed Clark the dish, and Clark figured, "I'm going to take this with me. I'm that proud of it."
UAB coach Bill Clark brought this to his post-game presser. pic.twitter.com/T911F6tcG9

— Joseph Goodman (@JoeGoodmanJr) November 4, 2017
A program shut down in December of 2014, UAB is playing FBS football again. But the Blazers are doing more than just play.
Call it luck, destiny or magic in the Magic City of Birmingham, the Blazers are in the middle of the best season in their history. UAB earned its seventh win of 2017 last Saturday against UTSA, which tied the program's single-season high. UAB, which plays at Florida on Saturday (4 p.m. ET, SEC Network), will have the opportunity to shatter that record with three guaranteed games remaining on the schedule.
Clark, who just received a five-year contract extension that made him one of the highest-paid coaches in Conference USA, said all offseason his only expectation for 2017 was to be "competitive."
This is just a little bit better than competitive, right coach?
"To be sitting here at this point is kind of overwhelming," Clark said.
UAB is 7-3 overall and the best story in college football, which begs the question: How the hell did this all come together?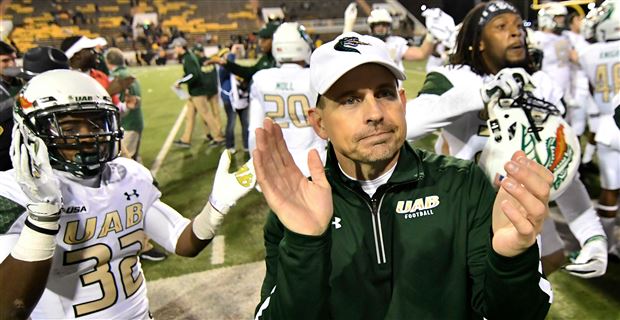 Every UAB player or coach who participated in the 2014 season has told their story countless times: "I can't even tell you a number, but it seems like thousands," said redshirt senior defensive end
Shaq Jones . And if Jones spun his yarn on that many occasions, Clark's number might be pushing a million.
Here are the quick facts of the Blazers' journey: 1. UAB reached bowl eligibility in 2014, Clark's first season in Birmingham. 2. UAB shut down its program citing fiscal concerns, which meant no bowl game. 3. Without a place to play, much of the roster scattered across the country. 4. Thanks to a groundswell of community support and the efforts of the UAB administration, the program announced its return on July 21, 2015. 5. Arguably most importantly, Clark stayed.
Job offers flooded in for Clark after UAB's football program folded. But Clark, an Alabama native and first-time FBS head coach, saw an opportunity for something special if the Blazers would commit to doing a comeback right.
With Ingram and a rededicated administration, UAB shared the same belief.
Clark's presence gave the Blazers a number of advantages. A state-championship winning high school coach in Alabama, Clark knew every high school coach in the area. Clark also knew how to transition a program to the FBS since he served as South Alabama's defensive coordinator during its move to the Sun Belt. He knew what worked for the Jaguars and what didn't. He also knew what to ask the NCAA.
Clark also made players believe.
"Everything goes back to him," Jones said. "He stayed for a reason. He had a vision. He wouldn't be here if he didn't see his vision coming true. He had a plan, and it's fallen into place I'd say."
If the Blazers were going to return, they couldn't do so meekly – Clark and Ingram agreed on that.
That meant revamping its facilities. How bad were they before? Take UAB's old practice fields. The Blazers had two, 80 and 100 yards, and both had their issues. The 80-yard field didn't drain. If it rained, you couldn't practice on it for three days. The 100-yard field had no such problem. That one had a full 10-foot elevation change from one side to the other. To practice, the Blazers used to literally run uphill. The team's old meeting room? It was just a big open space with folding chairs.
Clark and Ingram dreamed up an ideal football space, and then they fundraised to make it happen.
Fans wanted a new stadium. Legion Field, built in 1927, is still in need of major upgrades. But Ingram used to pitch donors on the importance of a football-specific facility. UAB would only play six games a year in a new stadium, but players/coaches would all but live in it. In order to succeed, UAB needed its basic football needs met.
Local recruits used to stay away from UAB because they knew what the facility situation was like. In order to bring in talent, the Blazers needed a real on-campus home.
"I would say to folks, 'You'd watch the Golden State Warriors play in a parking lot because they're that good,'" Ingram said. "'Just understand that's why this is No. 1.'"
Ultimately, Clark and Ingram raised over $40 million for the football program, which was more than enough to erect a state-of-the-art facility with a $22.5 million budget. Before, the Blazers' office was a 3,000-square foot space. Now, UAB works out of a 46,000-foot football-specific building that includes offices, weight rooms and positional meeting rooms. No longer do the Blazers worry about where they'll practice if it rains – there's a covered awning to keep everyone dry.
On the flight to San Antonio, where the Blazers would pick up their seventh win, Clark and Ingram spoke about how the team's bowl eligibility reaffirmed what could've been a controversial opinion of putting a facility before a new stadium.
It was all just part of the plan.
"We were very methodical in our approach to getting what we thought we would need to get ourselves on our feet and comeback in a competitive way," Ingram said.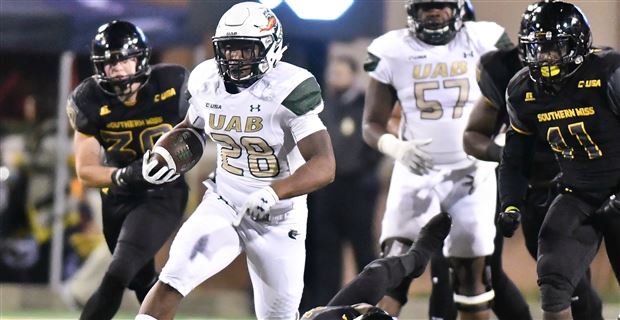 UAB's 2017 roster is eclectic in every sense of the word.
There are 50 former junior college players, 10 true freshmen and 18 redshirt freshmen. The players' hometowns are equally as exotic. Punter
Joel Dixon is from Australia. There's a seven-man Texas contingent, nine Blazers are from California and another hails from New York City. Of course, there are still 55 Alabama natives. But this group is among the most unique in college football. Hell, there are even several players on the roster over 25 years old.
If you'd have told Clark 20 years ago one of his teams would look like this, he'd have laughed at you.
"I'd have said you're crazy," Clark said. "How would we have gotten kids from California, Texas, New York and Florida? It's truly a national roster."
This is a group of individuals with many different backgrounds thrown into one big melting pot, which somehow created a delicious stew of a team.
And each player has their own unique story of how they arrived at this point.
Jones, a UAB holdover and the team's leader in tackles for loss (12), could've gone many places after the Blazers shut down the program. He remembers well the, "oh crap" and the "what's next?" moments that followed the announcement. Jones received plenty of other offers, but staying close to his family and young son – plus the draw of Clark – prevailed.
If you check out UAB's roster, the bios of the 15 Blazers who stayed post-shutdown feature the schools they could've gone to had they left. And that's loyalty with no football program to speak of, mind you.
Then there are the JUCO players.
A mix of little-recruited high school prospects and former FBS players who needed another opportunity, the Blazers plucked them from across the country with the intention of quickly building a competitive roster. Any player who came would not lose a year of eligibility in 2016 as the Blazers sat out – another concession by the NCAA. That gave UAB a year to come together and players a free year of eligibility to improve.
Broderick Thomas , the team's second-leading tackler (71), is one such player. Hailing from West Columbia, Texas, a town with a population just shy of 4,000, Thomas was a little-recruited defensive back who, at one point in his journey, took a year off to work in a pipe-fitting plant. But Thomas ended up at Cisco College after a tryout, where he eventually earned scholarship offers from UAB, Georgia State and Texas Tech.
The choice was easy.
"I came from a small school, so I was always the underdog," Thomas said. "I knew this program was going to be an underdog program, so I wanted to be a part of it. It was a good opportunity because I'd never had an offseason before. That was my first offseason to develop as a DB."
UAB's roster is littered with players like Thomas – under-the-radar with something to prove.
But things did not come easy as the Blazers pieced things together. Clark established a strong "yes sir, no sir" culture in 2014. But he had to start from scratch with so few players returning.
Not only were the Blazers overcoming regional barriers and personalities clashing for the first time, but they had to get past the JUCO mindset. As Jones puts it: "'I want to get out of junior college. I don't want to be here.' So they play for self." Add in a pair of freshman classes in 2016 and 2017, and very few UAB players had played a snap of Division 1 football.
"It was like putting together a jigsaw puzzle when you're blind," Jones said.
Clark did what he could to make the pieces fit.
The Blazers weren't short on time around each other. Jones called learning everyone's names a six-month process, which happened throughout a 2016 in which UAB could do nothing but hit each other in practice and work out. Clark kept a regular in-season practice schedule and held scrimmages in lieu of Saturday games during the fall. He also forced teammates from different regions to sit together during team meals and meetings. The team often volunteered at a nearby Children's Hospital, and they did events in the community to get Birmingham excited for the team's return.
Eventually, Jones learned to understand Dixon's accent and players from up north figured out what grits were. The walls between teammates crumbled slowly as the days ticked by, and eventually the "thrill ride" of learning something new about each other daily became a momentum-creating vortex for the team's culture reestablishment.
By time true freshman running back
Spencer Brown arrived on campus, the puzzle pieces were arranged.
"They were a tight knit family when I got here," said Brown, who is second nationally among freshmen with 1,177 rushing yards. "You can tell when Coach Clark walks into a room how much respect he has."
Netflix may have dubbed East Mississippi Community College the "Last Chance U" of college football. But UAB, a program on its second wind, and its roster of second-chance JUCO players deserves at least a share of that title.
"I think this is the Last Chance U, to be honest," Thomas said. "We've all been through JUCO. We've all been through something, and we all have a story. I feel like this is our last, last chance."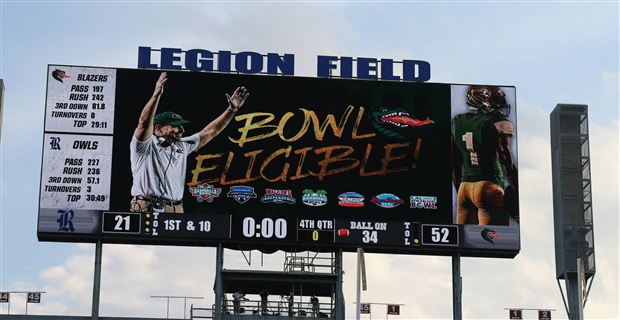 UAB's first win of 2017 came right away.
UAB 38, Alabama A&M 7.
It felt good. The Blazers were tired of hitting each other, and the celebration postgame was appropriately gaudy. A second win came two weeks later when UAB beat Coastal Carolina 30-23 in a battle of first-year FBS teams. But then the Blazers lost close to North Texas, dropping them to 2-2 overall, and it felt like maybe the magic might wear off soon.
Then UAB hosted Louisiana Tech, a team that had won nine games each of the last three seasons. The Blazers had a 23-16 lead late in the fourth quarter wearing jerseys in honor of the patients at Children's Harbor Hospital,. Yet, the Bulldogs scored a touchdown with 3:32 remaining that should've tied the game. But Louisiana Tech missed the extra point. Magic, right? Well, the Bulldogs got the ball back and drove quickly to set up a 30-yard game-winning field goal attempt.
That's when
Stacy Keely , a JUCO transfer from Nebraska, raised a paw above his 6-foot-7 frame and got a piece of the ball.
UAB 23, Louisiana Tech 22
"After we beat La Tech, I believed our team could do anything," Thomas said. "Anything is possible."
That's the kind of year it's been for UAB – a season not even the biggest dreamers in Birmingham could've thought up. The Blazers (7-3) are 5-0 at home and drawing more fans per game than any other team in Conference USA.
It turns out people will watch the Blazers anywhere.
UAB is winning big, like it did in a 52-21 victory over Rice to punch bowl eligibility. It's also winning small, like Saturday's 24-19 squeaker against UTSA.
A conference title is out of reach ,as North Texas has already clinched the division. But regardless, this season is far more than anyone could've imagined – even if the plan was to win all along.
"Bringing it back to the facility, I had a bunch of people tell me: 'Well that's an undefeated season. Don't worry about what you do,'" Clark said. "That's just not me. That's not why we do this. You don't want it to be all about winning, but it's kind of important. To see all the work come to fruition with this group where we didn't know how they'd react … it's made it special."
UAB will play in only the second bowl game in program history later this season, thanks in large part to a coach and administration that dreamed big. They're still thinking that way. Clark and Ingram have said all along they believe the Blazers can become a national program. Clark looks at Boise State as an example of what can occur quickly when an investment in football is made.
Ingram's vision is similar.
A new stadium is still in the works, and Ingram said the Blazers are well on their way to adding at least one facility upgrade for every athletic program on campus. UAB, a Top 150 University in the world, already has the academic clout needed to draw top athletes. Add in the recruiting footprint of the South, and the Blazers hope to do something special in the state's biggest city. It's slowly working. Just a few days ago, Clark told Ingram the Blazers are signing players who wouldn't even talk to him back in 2014.
A program once left for dead is thriving again.
So it's only appropriate the Blazers already have an eye toward what's next.
"You have all these things already in place, and from an athletic standpoint it's a little like Field of Dreams," Ingram said. "If you build it, they will come."
Source : https://247sports.com/Article/From-shut-down-to-bowl-eligible-The-story-behind-UABs-magical-2017-season-110470505